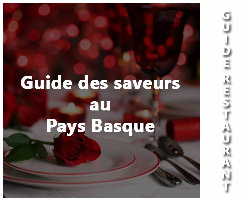 Restaurant Cidrerie Chez Ispéguy 35, Av Du Commandant Passicot CIBOURE 05.59.47.40.64 Traditional cooking with a terrace infront of the bay of St Jean de Luz.
We advise you to order its "merlu de ligne à l'espagnole" or " côte de Boeuf".
Open every day, except Sunday evening.
Le Bar Basque 22, Bd Thiers ST JEAN DE LUZ 05.59.85.16.63. Restaurant in town with a terrace.Traditional cooking always tasty. Try menu and daily specials...
Open every days.
Le Zoko Moko 6 rue Mazarin ST JEAN DE LUZ 05.59.08.01.23 "Le coin tranquille" 1 étoile au Guide Michelin . Gourmet French cuisine not to be missed during your stay!
Refinement and best tastes are guaranteed
Open every day, except Monday
Cidrerie Txopinondo Chemin de la Cidrerie ZA Lanzelai ASCAIN 05.59.54.62.34 . Basque tradition. Cidery with possibility of tasting, mandatory visit !
Rib of beef cooked front of you and Basque cider directly served from the barrel all along the meal. Txotx !!
Open every days.
With Marosenia Ttiki you can customize your stay, you will find this option during booking depending on availabilities and coaches.