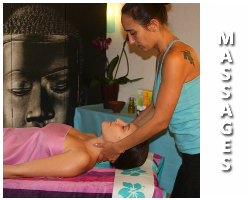 Jade use naturals and respectful for your skin products to make you travel thanks to massages from around the world.
Californian massage : Perfect for a first massage. By long fluid and harmonious movements and sliding pressure, this massage relaxes and eases muscle tensions, helps release stress.
Oriental massage : Deep letting-go. Relaxes and soothes with a sensorial trip. Massage From head to toe following muscles. Alternation of blending, kneading, smoothing movements.
Balinese massage : This massage is contraindicated for people suffering from joint problems. Relaxing and softening massage made with gentle stretching exercises.

Indian Ayurvedic Abhyanga massage : Rhythmic and specific massage that brings relaxation, reduces nervous tensions and improves blood circulation.
olynesian massage : Massage connecting the heart, body and mind. The special feature of this massage consists of enveloping movements, both muscular and profound with the forearms, fists and phalanges. Jade will help you choose the most appropriate massage according to your desires and needs of the moment..
Prepare your escape, book your massage !!!
Marosenia Ttiki you can customize your stay, you will find this option during booking depending on availabilities and coaches.